About Philip Koutev Ensemble
National Ensemble of folk songs and dances Philip KUTEV was established in 1951. From the beginning it was formed as a professional staff. The first modest but talented young singers, dancers and musicians have been in the ensemble after a selection of specially held a national competition. Along with his artistic talent they have and untold riches of their folklore Rodney places. Everything else as a theory, organization, etc. be added by Ansambala through this, it becomes a prestigious school of stage arts folklore as is until now.

Founder and chief art director of the ensemble since its founding is big Bulgarian composer Philip Kutev (1903 - 1982), one of the best connoisseurs of Bulgarian folk music. Dance group is headed by Public artistka - Margarita Dikova choreographer, worked for many years in the Bulgarian folk dances. For conductor was drawn Ivan Kavaldzhiev for philologist - folklorist - Maria Kuteva.

Its creative contribution to the development and consolidation of the ensemble have other artistic leaders:
Ivan Kavaldzhiev
Zhivka Klinkova
Krassimir Kyurkchiyski
Pavlina Bedrova
Cyril Dzhenev
Maria Kancheva
Michael Jordanov
Yordan Yanakiev
Stefan Dragostinov and others.

The brightest musical and dance conversions are the result of great talent and deep knowledge of Bulgarian folk artists from the unique Philip Kutev and Margarita Dickova. They soar stage realization of folklore to the level of professional art.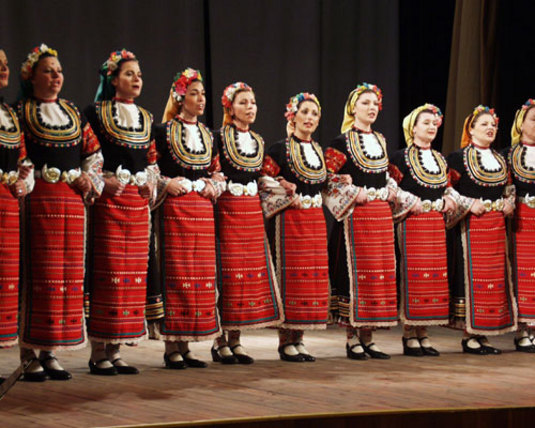 Another important principle in the ensemble is the use of sources material from the repertory of performers themselves. Thus, the songs are created masterpieces of Philip Kutev: "Tell me, tell Angyo, is leaning Todora, Lale you hyacinth you and others. Such is the creative way and the wedding rachenitsa, three times "," fox "and other stage made by Margarita Dikova Bulgarian folk dances.
Today Phillip Kutev Ensemble spread the beauty of native folklore in all parts of the world. Each new stage performances is holiday, looking forward and longing of love and shiver about a pretty unique experience.